A non-invasive holistic treatment.
We offer veterinary laser therapy for dogs. Laser therapy is a non-invasive holistic treatment used in pet rehabilitation to speed up the body's natural healing process and relieve pain. It's a great option for post-op dogs, older dogs, and dogs living with chronic conditions like arthritis.
How does pet laser therapy work?
Laser therapy uses deep penetrating beams of the light to alter cells and the tissue that surrounds them. When the light penetrates the body's cellular components, it stimulates the targeted cells and promotes healing. Perhaps most importantly, though, laser therapy is entirely painless.
Whether your dog is struggling with post-surgical pain or they're simply getting older, laser therapy can help them live their very best life. Treatments are relatively quick and can be easily integrated with traditional medical procedures and other holistic practices like acupuncture, reiki, and hydrotherapy.
What conditions can laser therapy treat?
Laser therapy can help treat a number of chronic and acute conditions in dogs including:
Allergies
Arthritis and inflammation
Lacerations and burns
Hip dysplasia and osteoarthritis
Skin conditions and infections
Fractures, sprains, and strains
Gingivitis and tooth extraction pain
Wound healing and post-surgical pain relief
Testimonials from Clients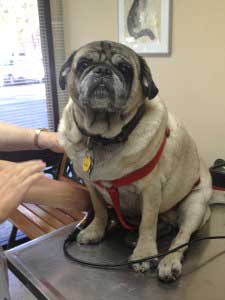 "On Sept 16 I brought Oscar into the clinic barely able to walk & in pain. Dr. Battier recommended laser therapy- he has his first session then – on Sept 17 (the next day) Oscar was …acting like a puppy!! running up the stairs and playing – I thought this can't be true but days later, he is still happy and playful. What a wonderful experience, Thank you Dr. Battier and Dr. Regina!!" -Jackie A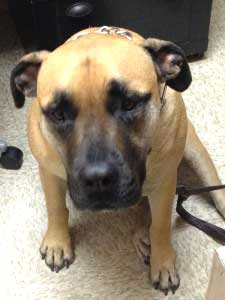 My (very large) dog had an ACL tear (injury) on her hind leg – after having surgery on her other rear leg we decided to try lazer therapy. We have seen a marked improvement in her comfort & energy level. And we were glad to avoid another surgery! – Gracie G. 5 yr. old Boerboel (October)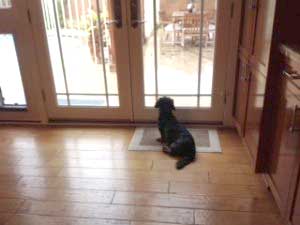 Ziggy had been in pain (even with anti-inflammatory & pain meds) for 2-3 weeks. After one laser therapy treatment, he was almost pain free. The treatment worked great ma it is worth the minimal cost. Ziggy will have 5 treatments. Thank you Dr. B. -Judy A. 12-5-14
If you think laser therapy could improve your dog's quality of life, give us a call at (805) 987-7110 to schedule a consultation.